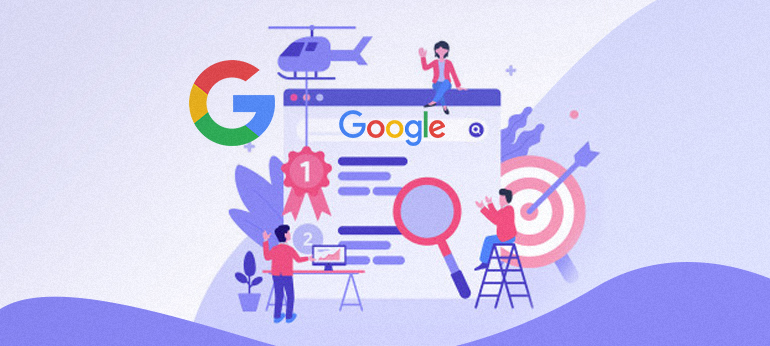 How Google Quality Rating Guidelines Affecting Your Business Website
---
Google plays a major role in the success of a website. Whether you like it or not, Google has and always been the platform where people go to find what they are looking for.
Suffice to say, if you're doing great on Google, you can expect to have plenty of organic traffic coming to your website.
But doing great on Google is easier said than done. There are so many factors that affect a Google search engine ranking, it's hard for any website (let alone those who are just small or starting out) to really get a grip on how Google works.
Until the release of Google's Quality Rating Guidelines that is.
You might not realise this but Google has a legion of content raters that goes through the content that comes up on their search results and reviews them, assigning scores to websites base on their quality of content.
If you have figured it out yet, the Google Quality Rating Guidelines is how they are doing it. As a website owner, if you want to be highly rated by Google, then odds you need to hit all the right notes with their rating guideline.
Of course, it's a bit hard to go through all 160+ pages of Google's rating guideline so we decided to condense it to a few important points that you need to know.
Before we go in too deep with the guidelines, let's just make one thing clear:
This is Not a Cheat-sheet to Rank no.1 at Google
In fact, when a quality rater assigns a score to your website, be it good or bad, it has no direct effect on your ranking. Well, that's not true. It has some effect on your website but not the way you think.
You see, all of the data that comes out of the content raters are being used to further enhance and improve Google's algorithm. The more data they have, the better understanding Google's algorithm has of what's good or bad content.
So, how does it affect your website?
As a website, if you want to ensure that you stay on the good side of Google's algorithm, it's a good idea to understand what they believe to be the standard for quality content that people want on their search results.
Will following the guideline guarantee your website's success?
Of course not!
There are over 200 factors in play for improving a website's ranking, that's not covered in this guideline. Rather, think of the guideline as being the standard that you need to adhere to if you want to improve your chances of ranking higher on Google.
With that in mind, let's go over some of the important points that you need to know about Google's quality rating guidelines.
Important Points about Google Quality Rating Guides
There are a ton of concepts about content that Google introduced when they created the guideline. Reading through all of them is definitely recommended but if you need the cliff notes, we've picked the important points that you should know.
1. The Purpose of a Webpage
A recent update on Google's guideline includes a greater look at a web page's purpose and whether it's beneficial to users.
If the webpage offers a beneficial purpose, such as to entertain or to sell products or services, then it has a higher chance of receiving a good rating. On the other hand, if the page serves no beneficial purpose to a user, then raters should give the page the lowest quality rating.
What do you think of the website below?
Well, it may look strange and pointless at the first glance. But, according to Google, this page has a helpful or beneficial purpose that encourages users to post photos with mouths drawn on them. The website clearly explains itself on its FAQ page.
This basically means that when it comes to your website, it's important to have a beneficial purpose for a user. If your website doesn't offer anything of benefit, then it's not going to be rated highly by Google.
2. It's Either Your Money or Your Life (YMYL) Pages
Now, that might sound like a threat but it's not. It's actually a term that Google coined back in 2014 to categorise pages or websites that "could potentially impact the future happiness, health, financial stability, or safety of users."
Any website that's considered to be a YMYL page is put on a higher standard by Google because they have the ability to affect a searcher's health, happiness, wealth, and safety.
As for what pages classifies as a YMYL, here are a few that Google outlined:
Shopping or financial transaction pages: web pages that allow users to make purchases, transfer money, pay bills, etc. online (such as online stores and online banking pages).
Financial information pages: web pages that provide advice or information about investments, taxes, retirement planning, home purchase, paying for college, buying insurance, etc.
News articles or public/official information pages important for having an informed citizenry: web pages that include information about local/state/national government processes, policies, people, and laws; disaster response services; government programs and social services; news about important topics such as international events, business, politics, science, and technology; etc.
Other: other topics that can be considered YMYL, such as child adoption, car safety information, etc.
There are others category for example Medical and Legal information pages also fall under YMYL category. If your website falls under any of the categories listed by Google, then it's a good idea to keep their guidelines in mind when you're creating content. When the content you make is not up to Google's to standard, then your website is more likely to get weeded out from their search results.
But what kind of content is considered "quality content" for Google?
That's what the next point is about!
3. Making E-A-T Worthy Content
Unfortunately, E-A-T has nothing to do with creating delicious content for your website. It's actually an acronym for Expertise, Authoritativeness, Trustworthiness. It's essentially the three main factors that they use to rate a content.
To rated highly by Google, you definitely should strive to produce high E-A-T content especially if you're under the YMYL category.
The reason why E-A-T is important is that, when a rater looks at a web page, they look at it from the perspective of a user and asks themselves: Is the website and its information trustworthy?
Let's say you visited an online store and you found out that the website don't have a safe way to process your transactions such as HTTPS connection, will you buy from the store?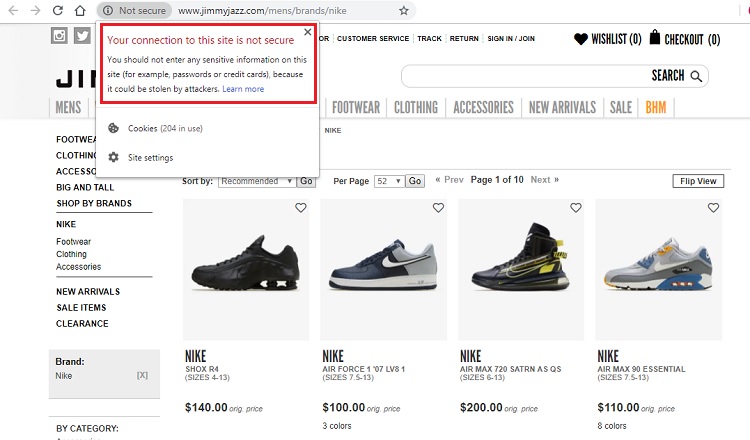 The above example shows an online store that is without HTTPS and Google Chrome browser shows a warning to visitors. Will you think twice before buying anything from the website? Users will hesitate and probably abandoned your website if they don't have confidence or can't trust your website.
Not only do you lose the trust of a customer, but you're also showing that you lack the expertise and authoritativeness of running an online store.
4. The Reputation of Your Content Creator
A recent update to the Google's guideline now puts a bigger emphasis on the creator of your main content.
Previously, Google only takes into account the reputation of a website only when reviewing content published on their page. The new update now urges its raters to research up at the author or creator that's in your website's main page.
The reason why Google's doing this is that there were times when authoritative websites published an article by authors with a poor reputation just to ignite controversy.
As such, websites that use authors with questionable reputation or does not even show their authors are rated lowly by Google. Of course, it also shows how important mobile is for Google, which leads us to the next point.
5. Mobile-Friendliness of a Site
Year over year, the number of people using their mobile devices to consume content continues to rise. As such, Google has started to make mobile-friendly websites a priority in their searches.
Previously, Google has been lenient towards mobile compatibility and was merely encouraging websites to have a mobile version as an "added bonus". Today, however, if a website is not useable on mobile, then it automatically receives the lowest rating.
Given how many people are using mobile devices to surf the web, it's understandable why Google takes mobile compatibility seriously. If you don't have a mobile version of your website ready, then you're just asking for a low rating from Google.
How It Affects My Website and What Can IDo?
As a startup or a small business, the guidelines might seem a bit overwhelming to implement. But here's the thing, if you want to be rank highly on Google, you need to make sure that your website is playing by their rules.
We've rounded up some actionable tips that you can implement to your website and start curating your content by Google's standard.
1. A Clear Purpose for Your Site
One big takeaway from Google's guideline is that they want websites to have a clear focus and purpose. When you have a website that clearly answers a user's question, it makes it easier for Google to give that answer to them.
What does that mean for your small business? It means going back to the basics and understanding clearly the purpose of your website.
What do users want and need? How are your pages answering them? Why should they keep coming to your page? How is your website helping them accomplish what they set out to do?
Ask yourself these questions and take a look at your website at its most basic form. The better focus and purpose your website is, the easier it will be to improve your content and serve your users.
2. Quality Content Is Always On Top
It's no secret that quality content will always rise to the top. And with the guideline, we now know the exact type of content that Google considers to be a high-quality content.
Google wants the content to be a one-page landing that user can find all the information they want without having to look elsewhere. But to take it even further, your content should achieve the following:
Have regularly updated information that's relevant and new
Be placed at the front and centre of your page
Implementing E-A-T
A good balance between information and monetisation
A well-written, in-depth and original content that covers a topic in multiple angles
Here's an example of what mentioned above,
The single page above has covered an in-depth knowledge about How Web Hosting Works with details explanations. You can easily access to this page from the top menu of the website. Beside, readers can find all the information in one-page without needing to hit the back button. And, you can notice the page is updated regularly and followed the E-A-T.
3. Make Sure You Implement E-A-T
Yes, we've stated that E-A-T is needed for creating a quality content but we can't stress enough how important it is as part of Google's quality rating guideline.
At its core, E-A-T is all about trust.
Can the user trust your website? Can they trust the information that you give? Can they trust their information with you?
Establishing your E-A-Ts goes a long way with building up your ranking with Google. But how do you exactly do that? Well, here are some tips:
Set up an About Me/Contact Us/Customer Page so that users can contact you directly.
Engage in social proof by encouraging your users to interact with your business/startup via social media platforms such as Twitter, Facebook, etc.
Showcase your experience, expertise, and authoritativeness on topics that are relevant to your business.
Make sure you showcase your Author's bios and their credentials as well.
Cite reputable sources if you're lacking formal credentials.
Always strive to produce high quality and professional content.
When it comes to E-A-T, it's all about showing users that you know what you're talking about and that they can trust your opinion.
4. The Reputation of Content Creators Matter
For startups/small businesses, this means that the content you publish needs to have the author's information such as a bio and their social media profiles.
Setting up a bio page for your authors/content creators is not that hard. A simple bio write-up and an About.me page is enough to show the credibility/online presence of your authors.
As for guest writers/bloggers, take the time to research on them before letting them post content on your website. Look up the content that they've written and whether it conflicts with Google's guidelines.
5. Mobile-friendly Site Is A Must
As Google shows, having a mobile compatible site is an important factor in their rating, as such if you don't have a mobile version of your website, make one immediately!
Google new tool - Mobile-friendly Test can tell you if your website is mobile friendly or you are not mobile friendly. Here's the output of ThomasDigital website,
When designing your mobile website, keep the following factors in mind:
The readability of your site (being able to side scroll to read your content)
How easy is it to navigate your site
Are images optimised/adjusted for mobile viewing
How easy is it to add/enter data (ie. to type a comment or fill in a form)
The performance/loading speed of your mobile web page
Having incompatible technologies such as Flash on your website
You can easily solve a lot of the problems above with a mobile solution plugin or using a mobile-responsive theme.
Rounding Up
The Google Quality Rating Guidelines offers small business and website owners a peek into the inner workings of Google's algorithm and to digest all 160+ pages is hard, even for experienced users.
It's almost impossible to condense the entire thing into a single post, but hopefully, this article gives you a better idea of the more important aspects of Google's guidelines and how you can take action to improve your website and rank better on the world's most popular search engine.